De Nieuwe Kerk Amsterdam presents the royal exhibition: The century of Juliana, a Queen and her Ideals.
A rich presentation of over one hundred art objects from the Royal Collections
On the eve of the 75th anniversary of her inauguration as Queen of the Netherlands, De Nieuwe Kerk Amsterdam presents an exhibition about Juliana and her extraordinary reign. The century of Juliana, a queen and her ideals is the polyphonic biography of a beloved queen. An eventful century is mirrored by her personality and her ideals. Juliana is often characterised as the 'monarch next to the red carpet', headstrong and averse to protocol. Loved for her simplicity and humanity. However, she was also head of state during a century that was marked by unprecedented setbacks and spectacular prosperity.
In 2022, the anniversary of the inauguration provides an opportunity for retrospection. The generation that witnessed her personally meets a generation for whom she is primarily a historical figure. Together they look back at her eventful life. Juliana wanted – and we know this from interviews – to be a modern monarch and to connect. A host of historians and experts, including biographers past and present, have written about her. The exhibition provides context and aims to present a complete, and also personal, image of this remarkable monarch. The century of Juliana, a queen and her ideals is on view from Saturday 15 October to Sunday 9 April 2023.
The turbulent world of the twentieth century
Juliana's reign (1948-80) was marked by recovery and change. From post-war reconstruction, Indonesian and Surinamese independence and the Cold War, to the arrival of large groups of guest workers, the state pension, divorce and secularisation. In Juliana's century, the Netherlands was in a state of rapid change. The exhibition juxtaposes our country and her person with well-known and unknown eyewitnesses who share their memories of Juliana through film and audio. We get to know the young princess on her way to adulthood through the eyes of Noraly Beyer, Kathleen Ferrier, Herman Pleij, Paul Rem and Elsbeth Etty, among others, and we see her grow into a steadfast head of state in the turbulent world of the twentieth century.
A rich collection  
In a spectacular palace setting, visitors travel to Juliana's royal world and past important events in Dutch history. Over four hundred objects are presented: personal belongings, visual art, historical documents and photography, famous evening gowns, special film fragments, royal tableware and more. Ranging from golden gifts from the former Dutch East Indies, her iconic inauguration dress, colourful angisas (head scarves) from Suriname, the typical Juliana glasses, children's clothes and toys, to a beautifully fully laid table in the glamorous setting of a state banquet, and the Monarch's monogrammed Rolls Royce. With over one hundred objects, the Royal Collections are the largest lender to the exhibition. The institution organises the opening of the palaces and manages and provides access to the special historical (as well as contemporary) collections that the Nassau and Orange-Nassau families have collected over the centuries. Other objects in the exhibition come from dozens of museums and private collections.
The red, white and blue Juliana van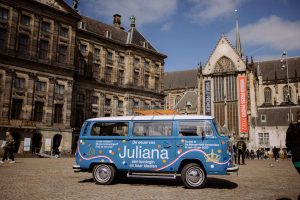 De Nieuwe Kerk has been on a journey to collect memories and stories about Juliana. A quest for eyewitnesses and anecdotes. With a striking 'red, white and blue Juliana van', a journey was made throughout the country. All twelve provinces were visited, and dozens of stories were collected. A selection will appear in the exhibition.
Background photo: Queen Juliana and Prince Bernhard on holiday in Porto Ercole, Italy, 1968.