140612 Magical Africa
Masks and Sculptures from Ivory Coast
The Artists Revealed
25 October 2014 – 15 February 2015
This autumn De Nieuwe Kerk in Amsterdam will present a major international exhibition featuring world-famous African masks and sculptures. With this exhibition of over two hundred enchanting and mysterious art objects from Ivory Coast, De Nieuwe Kerk will be fulfilling a long-held desire to devote attention to the culture of the African continent. The touring exhibition entitled Magical Africa – Masks and Sculptures from Ivory Coast. The Artists Revealed is a collaborative production of multiple international museums and private lenders. It is currently in Zurich and will be coming to Amsterdam in the autumn.
Out of anonymity
A team of experts studied the masks and sculptures for over thirty years. Through their research in Africa they were able to establish which artists created each the sculptures and identify specific regional differences in style and aesthetic principles. Together the masks and sculptures – most made of wood, some of ivory – will astound the viewer with the power and authenticity of African sculpting tradition, which many believe has reached unprecedented heights in the area of West Africa that is now Ivory Coast.
From the nineteenth to the twenty-first century
The exhibition features works by forty-nine artists of the Baule, Dan, Guro, Lobi, Senufo and Lagoon regions of Ivory Coast, spanning the nineteenth, twentieth and twenty-first centuries. From the male figurine by Kipume Youl dating from around 1850 to the contemporary group sculptures of Emile Guebehi and Jems Robert Koko Bi (Diaspora II) created in 2013.
Unique setting and programming in cooperation with Prince Claus Fund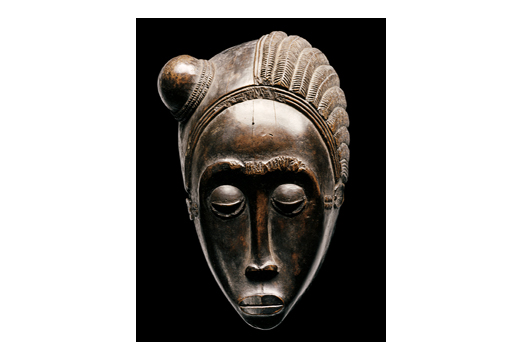 De Nieuwe Kerk has engaged artist and theatre producer Henk Schut to create an installation for the exhibition in Amsterdam. His spatial, atmospheric design will lend a new dimension to the African art on display, enabling visitors to experience it in a breathtaking setting in this Gothic church in the centre of Amsterdam. De Nieuwe Kerk and the Prince Claus Fund for Culture and Development will present four thematic events with lectures and concerts under the title Africa Out Loud! Music, Architecture & Arts from the Continent.
The exhibition will be held in De Nieuwe Kerk Amsterdam's Dam Square from Saturday 25 October 2014 to Sunday 15 February 2015. An exhibition by the Museum Rietberg Zurich and the Kunst- und Ausstellungshalle der Bundesrepublik Deutschland, Bonn. Co-produced by De Nieuwe Kerk Amsterdam and Musee du quai Branly, Paris. With thanks to numerous private lenders, including the Metropolitan Museum of Art in New York and the Musée des Civilisations de Côte d'Ivoire in Abidjan.