El Greco's Pentecost sixth Masterpiece in De Nieuwe Kerk Amsterdam
Thanks to a generous loan by Museo Nacional del Prado in Madrid, Masterpiece 2017 in De Nieuwe Kerk Amsterdam will feature El Greco's Pentecostés (Pentecost). From 18 February to 9 April 2017 the painting will be on exhibit in the sixth edition of Masterpiece. The series features works of art so extraordinary that they are almost never loaned out, because of their fragility or their status as beloved favourites. Many of the works featured in the series have an obvious or unexpected religious or spiritual dimension. Each one is a work that calls for contemplation and introspection and dazzles visitors in the breath-taking surroundings of De Nieuwe Kerk's gothic interior.
This soaring vertical depiction of the descent of the Holy Spirit follows The Holy Family by Rembrandt (2011), Andy Warhol's The Last Supper (2012), Francis Bacon's triptych In Memory of George Dyer (2014), Tristan's Ascension (The Sound of a Mountain Under a Waterfall) / Fire Woman by Bill Viola (2015) and Marc Chagall's Calvary (2016). The Masterpiece series is made possible by Stichting AMMODO and Boston Consulting Group.
The artwork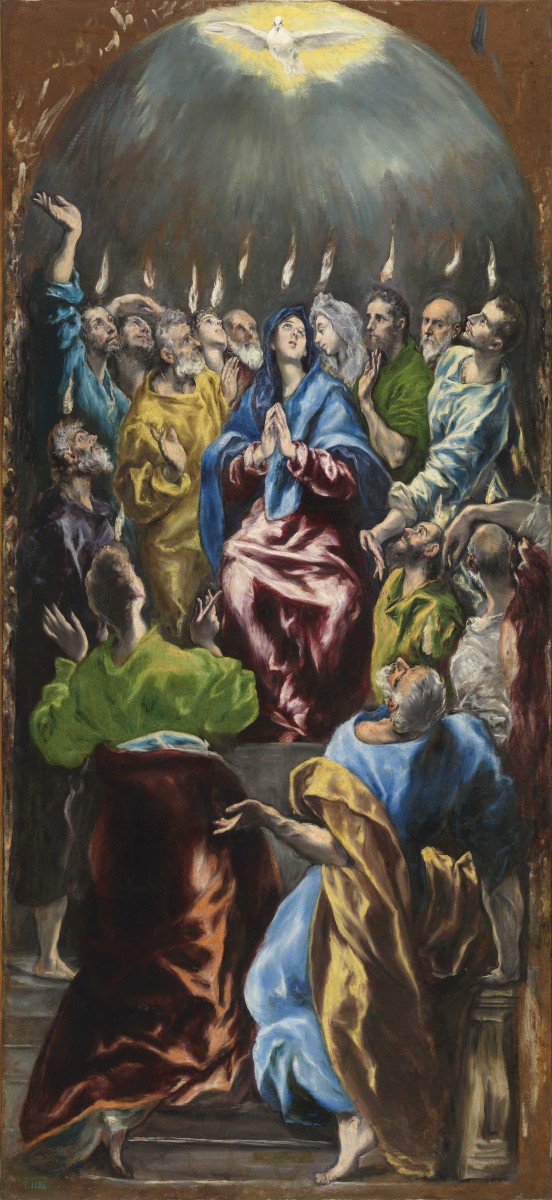 Pentecost shows the moment at which the Holy Spirit descended upon Mary and the apostles like flames of fire. The painting was inspired by the Pentecost story in the New Testament. The apostle on the right looking straight at the viewer is presumed to be El Greco himself.
The expressionist nature of the work, the blocks of vivid colour, the unusual vertical composition and the unnatural light reveal El Greco's unique signature. This powerful work is a perfect example of the highly personal style of his later paintings.
This masterpiece was part of an altarpiece made for the Colegio de Dońa María de Aragón, a seminary in Madrid. Other parts of the altarpiece depicting The Annunciation, The Baptism of Christ, The Crucifixion and The Resurrection are also part of the Prado collection.
The importance of El Greco (1541–1614)
El Greco is one of the most spectacular artists in the annals of art history. His altarpieces caused great excitement, but he soon fell short of expectations. Well into the nineteenth century it was thought that he had lost his mind. There was no other way to explain his bizarre, elongated figures.
After 1860 he was rediscovered. It started with impressionists like Manet and Degas, and Picasso and Kandinsky considered El Greco to be one of the most important influences on their own groundbreaking work. El Greco would become the patriarch of the avant-garde. It is this combination of altarpiece painter and pioneer of modern art that gives El Greco his unique place in art history.