141223 De Nieuwe Kerk's Masterpiece series continues with Bill Viola's Tristan's Ascension and Fire Woman
The Masterpiece series at De Nieuwe Kerk Amsterdam returns on 28 February 2015 with two installations by video artist Bill Viola,Tristan's Ascension (The Sound of a Mountain Under a Waterfall)en Fire Woman. After The Holy Family by Rembrandt (2011), Andy Warhol's The Last Supper (pink) (2012), and Francis Bacon's triptych In Memory of George Dyer (2014), the series continues with a highly contemporary, spiritual exhibition.
The Installations
Bill Viola made the two installations in 2005, for a version of Richard Wagner's opera Tristan und Isolde, on which he collaborated with director Peter Sellars and conductor Esa Pekka Salonen. The opera tells the tragic love story of two people who were destined for each other but could not be together. Viola created video installations of images from the opera.
Tristan's Ascension (The Sound of a Mountain Under a Waterfall) shows the image of a man, lying on a low platform, apparently dead. Tiny drops of water fall upwards. The droplets gradually become a dramatic ascending waterfall. The man is moved by the power of the water and rises up as if he is ascending to heaven. Finally the water disappears and the only thing we see is the empty platform.
Fire Woman presents the mysterious silhouet of a woman, standing before a wall of flames. We see her reflection in the surface of the water and the fire in the background. She moves towards the water, falls into her own reflection and disappears beneath the surface. The entire image then fades to a dark, blue glow.
The installations are presented one after the other on a special high-tech screen in De Nieuwe Kerk, accompanied by Viola's famous sound, which varies from ambient silence to loud intense noise, such as the raging sea of flames in Fire Woman and the upward-rushing water in Tristan's Ascension.
The Artist
"The most powerful thing about human beings is that we have visions and dreams within ourselves, and they must come out."
Bill Viola (b.1951) is internationally recognized as one of today's leading artists. He has been instrumental in the establishment of video as a vital form of contemporary art, and in so doing has helped to greatly expand its scope in terms of technology, content, and historical reach. For 40 years he has created videotapes, architectural video installations, sound environments, electronic music performances, flat panel video pieces, and works for television broadcast. Viola's video installations—total environments that envelop the viewer in image and sound—employ state-of-the-art technologies and are distinguished by their precision and direct simplicity. They are shown in museums and galleries worldwide and are found in many distinguished collections. His single channel videotapes have been widely broadcast and presented cinematically, while his writings have been extensively published, and translated for international readers. Viola uses video to explore the phenomena of sense perception as an avenue to self-knowledge. His works focus on universal human experiences—birth, death, the unfolding of consciousness—and have roots in both Eastern and Western art as well as spiritual traditions, including Zen Buddhism, Islamic Sufism, and Christian mysticism. Using the inner language of subjective thoughts and collective memories, his videos communicate to a wide audience, allowing viewers to experience the work directly, and in their own personal way.
The Series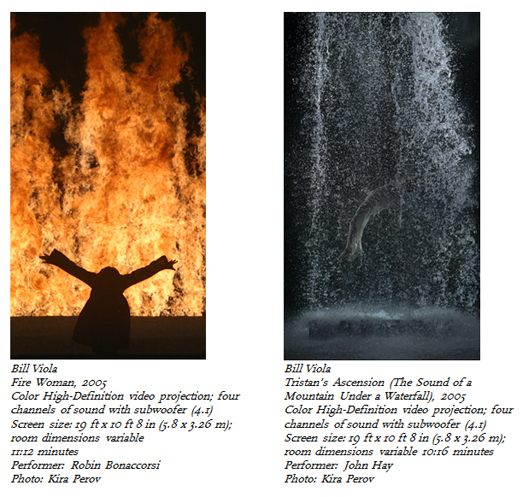 In 2011, De Nieuwe Kerk initiated a new tradition of displaying a masterwork with religious or spiritual significance from a museum or private collection every year. Gijs van Tuijl, former director of the Stedelijk Museum is the guest curator of theMasterpiece series. The works presented may be related to any religion or ideology. Each exhibition features an important work that calls for contemplation and
introspection, that dazzles in the Gothic church hall, and that invites people to make a kind of pilgrimage to see it.
Masterpiece will be held at De Nieuwe Kerk Amsterdam from Saturday 28 February to Sunday 12 April 2015. The series is made possible by Stichting AMMODO.