140210 Over 73,000 visits attend Ming. Emperors, Artists and Merchants in Ancient China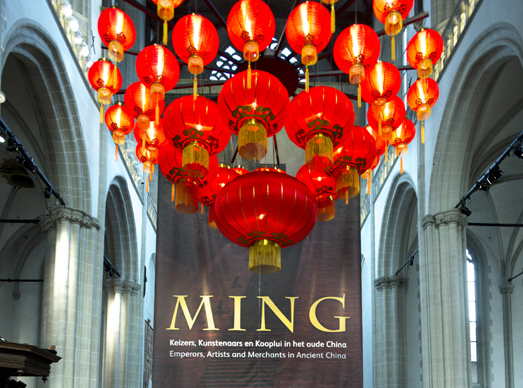 De Nieuwe Kerk in Amsterdam welcomed 73,500 visitors and guests to the exhibition Ming. Emperors, Artists and Merchants in Ancient China, which opened on 5 October 2013 and closed last weekend with a well-attended Chinese New Year celebration and free dim sum. The activities held every Saturday drew large numbers of visitors keen to learn more about Ming porcelain, daily life during the Ming Dynasty, Chinese folk music and other subjects. The most popular events were the workshops on Chinese calligraphy and the traditional Chinese tea ceremony. The church also drew a lot of visitors on Museum Night.
The exhibition also featured a world premier: a 3D printed model of the Forbidden City in Beijing. It took 112 days to print the scale model (1:300) of the city, using four printers operating non-stop. The printers were provided by project partner Leapfrog. The model will be moved to China's Nanjing Museum, the main lender to the exhibition.
The church is currently preparing for the opening of the third instalment of the Masterpiece series. Francis Bacon's imposing triptych In Memory of George Dyer will be exhibited in the sanctuary of De Nieuwe Kerk from 21 February 2014.