150709 Second edition of Journey in Time features 18th-century period room and naval hero's tomb for the first time
Church of the House of Orange, naval heroes and Beeldenstorm open all summer
Starting Saturday 11 July 2015 visitors to De Nieuwe Kerk Amsterdam will be able to enjoy a unique time-travel experience all summer long: Journey in Time. History & Royalty. This second edition of Journey in Time features a number of special elements that until now had been hidden from view. The Kerkmeesterskamer (Church Warden's Room) will be open to the public for the first time. This eighteenth-century period room has long served as a royal suite for our king and queen, foreign heads of state and other dignitaries, including the Dalai Lama, who was once received in this room.
The grave of naval officer Jan Hendrik van Kinsbergen is another of the church's hidden features. It will be included in the exhibition this summer in recognition of SAIL 2015. Jan van Galen and Michiel de Ruyter are also buried in De Nieuwe Kerk, making the church a true monument to the naval heroes of the Netherlands.
The Beeldenstorm of 1566 wreaked havoc in De Nieuwe Kerk. A before-and-after reconstruction of two chapels bears witness to these events. The rich, colourful decorations of the medieval Catholic Boelenskapel contrasts sharply with the whitewashed Meeuwskapel built after the Reformation (1578).
Journey in Time. History & Royalty takes visitors back through the nation's history along a path they choose themselves. There are two lines to follow through the church: the line of the House of Orange or the line of Dutch history. With video walls, projections, an audio guide and heavenly tones emanating from the largest organ in the Netherlands, visitors will experience six hundred years of history as they discover medieval secrets, royal traditions and urban libertinism. From Catholic devotions to the Beeldenstorm, the crusader and the Dutch East India merchant buried there, Dutch naval heroes and the ceremonies of our heads of state.
Music every day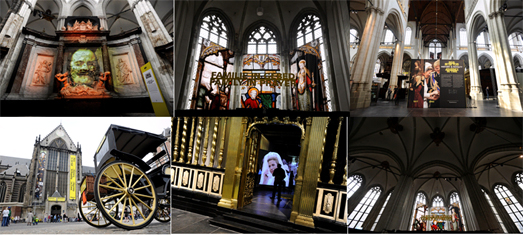 There is music every day in De Nieuwe Kerk, just as there was in the seventeenth century. The programme includes recitals on the main organ at noon every day except Tuesday and special performances by artists such as Het Zwanenkoor and Wibi Soerjadi.
Journey in Time ends 5 September 2015. The installation was made possible by a contribution from the BankGiro Loterij and its participants and is an annually recurring summer exhibition at De Nieuwe Kerk.